History of the Aces
After Johnnie Hoskins first introduced Speedway to Great Britain in 1928, it wouldn't be for another five years that the Belle Vue Aces gained their world-famous nickname.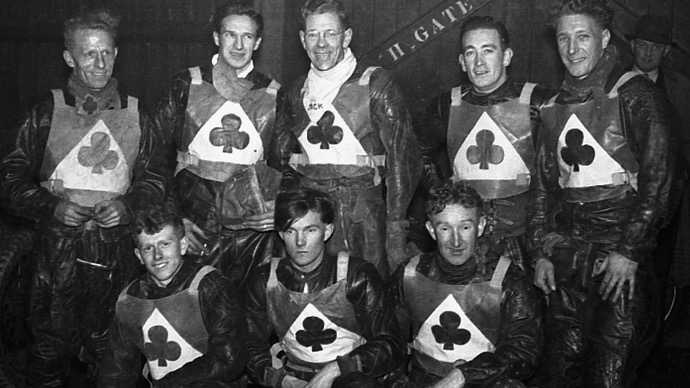 Roots of a legend
The sport in the UK was first organised by the North Manchester Motorcycle Club in 1928, which was controlled by E. O. Spence.
John Henry Iles was the man who ran the Belle Vue Company in the late 1920s, and it was he that first recognised Speedway's potential.
So convinced was Iles of Speedway as an attraction, he bought a controlling interest in the club and moved us to Hyde Road in 1929.
E. O. Spence remained a prominent figure in our early years, taking up his position as our first team manager until 1941.
As the sport's popularity grew, Spence wanted to bring the best of the best riders to Belle Vue, the aces of their craft.
The Belle Vue Aces
With a stadium of 40,000 to fill each week, Belle Vue resigned from the English Dirt Track League in late 1929, citing its unpopularity.
The following season we joined the Northern League and quickly established ourselves as one of the front-runners for success.
Between 1933 and 1937, Belle Vue won four consecutive League Championship titles, five National Trophies and four ACU Cups.
Our trophy cabinet only continued to grow as the decades flew by, with club honours coming thick and fast from season to season.
E. O. Spence's dream of having only the best riders in his team had come true, and by 1934 we were officially dubbed 'Belle Vue Aces'.
The War Years
Alice Hart, addressed by the riders as Miss Hart, took over as promoter of Belle Vue in 1941, the first woman to take charge.
Under her command, we successfully staged 176 meetings throughout WWII, attended by 2, 816, 000 spectators.
As our fame continued to spread, the Belle Vue Aces were invited to compete, as the first British team, behind the Iron Curtain in 1955.
The invitation, offered on behalf of the Polish and Russian Authorities, was reciprocated by Belle Vue in 1972.
We welcomed Auto Club Leningrad to Manchester on June 10 that year for an international challenge match, which we won 41-37.
Looking to the future
After 59 years, the Belle Vue Aces found themselves homeless after the demise of Hyde Road, which was sadly demolished in 1987.
For 28 years thereafter we raced on, saved from extinction by the Belle Vue Stadium, though it was a far cry from our former life.
But with the appointment of Mark Lemon as team manager in 2015, success started to gradually creep back into the Belle Vue pits.
And with the completion of the National Speedway Stadium in May 2016, we finally had a place to call our home once again.
Today, Belle Vue is once again the team that every rider wants to be a part of, as our uninterrupted legend continues to unfold.