History of the Colts
When club legend Dent Oliver returned to the Hyde Road Stadium in 1967 as Belle Vue's new Speedway Manager, he brought with him a complete change in policy and approach to rider development.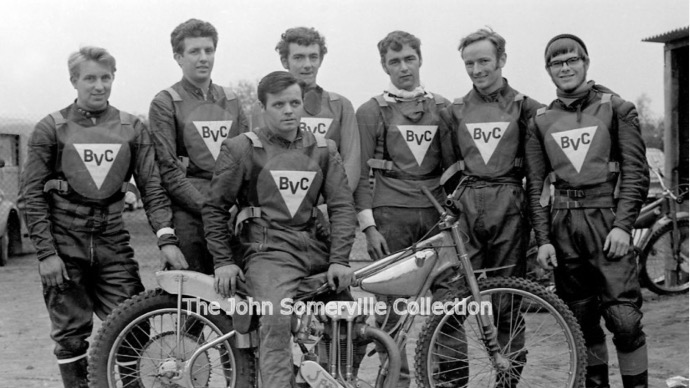 TRAINING SCHOOLS
Monday night training schools not only attracted established stars but youngsters from all over the North of England and Midlands.
It was through Oliver's efforts with these popular training schools that the future of Belle Vue's rider crop would be secured.
A constant stream of young talent was being fed into Belle Vue's main team, but over time numbers were growing astronomically.
To solve the problem of too many riders with too few team places, the Belle Vue Colts became the club's second team.
The team had made brief, previous appearances in the late1930s, but never in a competitive capacity.
IN THE ACES' TYRE TRACKS
In 1968, the Belle Vue Colts competed in the newly-formed British League Division 2 as one of its strongest, most dominant teams.
Riders such as Taffy Owen, Ken Eyre and Eric Broadbelt all cut their teeth in our second team before graduating to the Belle Vue Aces.
During that first season, the Colts were not only crowned League Champions, but they also triumphed in the Knock Out Cup.
More and more youngsters continued to stream into the team, as more and more riders left and advanced to The Aces team.
The Colts were able to replicate their league success in 1969 by defending their title, before internal politics resulted in their demise.
THE NEW ERA
Belle Vue Speedway's current management team share the passion that Dent Oliver had 50 years ago for Youth Development.
After a brief come-back to the track in 1997, and again in 2011, the Belle Vue Colts made their full-time return to racing in 2016.
And just like their predecessors, their return to competitive Speedway immediately brought with it great rewards.
In 2017, the Belle Vue Colts made it to the KOC Grand Final after storming to victory in the National League Grand Final.
Every year since then, Belle Vue has proudly entered the Colts into British Speedway's National Development League.